Lifetime Filter – Never Needs Replacement
have invested in better quality indoor air filter, and this premium quality filter will keep your  system clean and free of irritants for years to come. This high performance lifetime Furnace Filter replaces a standard low efficiency 'throw away' filter with no modification to the system. 94% resistant camper to M3 PEPPER filters of 45%. Benefits You Can Live With!!
Cleaner air to breathe                                                                                           

No harmful ozone emissions

Reduces pollen, dust and airborne pollutants

Less housecleaning

Never needs replacing

Anti-microbial filter media

Lifetime warranty

High dust & particle holding capacity
Electrostatic Filtration Illustrations show typical dust loading pattern of the electrostatic fibers. This unique characteristic improves air flow while providing maximum filtration.
When cleaned as directed, your Air filter will give you many years of trouble free use. Failure to properly clean the filter may lessen filter effectiveness, and as with any air filter, it is possible for an excessive dirt buildup to cause air flow resistance sufficient to damage other ventilation components. Depending on your specific situation the filter should be cleaned every 4-6 weeks.
Simply remove the air filter

Flush with water in opposite direction of air flow arrows then rinse other side.

Rinse thoroughly to remove remaining dirt, Drain excess water and reinstall.
The U.S. Government requires UV lamps above cooling coils for government buildings and schools uses UV lamps to control microbial growth in buildings. Now the average homeowner can apply the same safety measures in their own living spaces.
Considering the well-reported dangers of mold and bacteria in the home, it just makes sense to attack these problems at the source. You can, with a dealer-installed Breathe Easy UV Germicidal Lamp.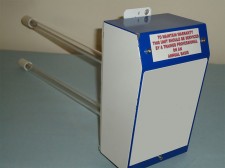 For use in home or office environments and placed near the coils of your HVAC unit. Kills and prevents mold growth and spores on your systems air conditioning coils. The unit provides some of the BEST protection available against biological contaminants such as viruses, bacteria, spores, algae, and dust mites.
This system is installed in the supply side of a heating/cooling system in your home or business.
It plugs into any standard wall outlet and destroys the pathogens in the air.
Helping provide higher quality air for easier breathing and helping prevent the spread of colds, flu's or other contagious infections from person to person via airborne viruses.
Benefect Disinfect
Benefect Disinfect is an EPA approved, 100% organic cleaning solution.
Benefect successfully kills most harmful bacteria, germs, and odors.
Facts:
Made from thyme, lemon grass, and cloves

Harmless towards humans, babies, and pets

Kills fungus, bacteria, mold, and mildew

Classified as a hospital or medical disinfectant by the EPA because of the variety of bacteria that it kills.
Pure Duct Systems will complete the job by spraying Benefact into your ductwork, leaving your vents clean and sanitized.
Thanks for choosing us. We appreciate your business.if you have an emergency,
 please call us (800) 985-7591.